After Ricky Carmichael ravaged the 2002 AMA Motocross Championship—winning all 24 motos—fans were looking for a hero to step up and produce some close racing for 2003. There were several candidates, starting with Chad Reed, who had closed out the 2003 AMA Supercross tour with six-straight victories over Carmichael. He finished a close second to RC in points, and would face him again outdoors. But Reed was much stronger in supercross than motocross, and proved to not be as much of a threat to win on the big tracks.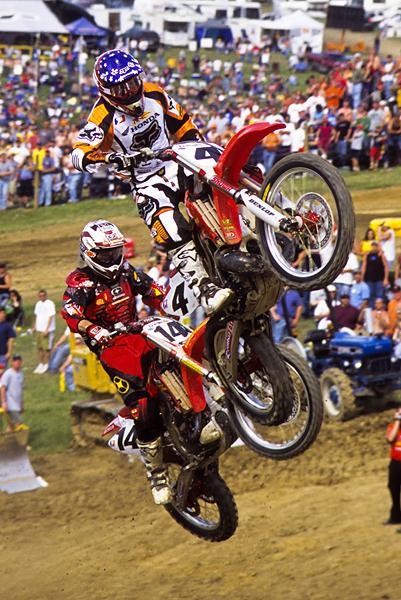 Instead, they fans found what they wanted in Kevin Windham, who missed the entire 2002 season with a broken leg and broken spirit. A broken femur is a bad injury, but Windham admits today that the leg injury wasn't the only problem. He was so burned out on racing in 2002 that many thought he would never return.
Finally, he found the fire again and began testing different bikes in hopes of a 2003 comeback. He fell in love with the new Honda CRF450R, signed a deal with the Factory Connection Honda team, and rolled into the opener at Glen Helen with unknown expectations. In 2001, Windham had battled Carmichael a few times and took some wins, but he was never quite able to apply championship pressure. Would the layoff and the new bike make him better, or worse?
The answer came quickly. Windham grabbed the early lead in the first moto at the Glen Helen opener and immediately began to check out. The fans were going crazy! Carmichael (still riding a CR250R) had gotten a bad start and was coming through the pack, and it looked like Windham may return in victorious fashion. Until he threw it away on a downhill jump. Carmichael rode past to take the moto win, and the polished it off with another in moto two. Carmichael also won Hangtown. The duo battled incredibly hard at High Point, even doubling off of the big tunnel (which was never intended to be a double) side-by-side. But Carmichael's unflappable fitness helped him pull out both motos.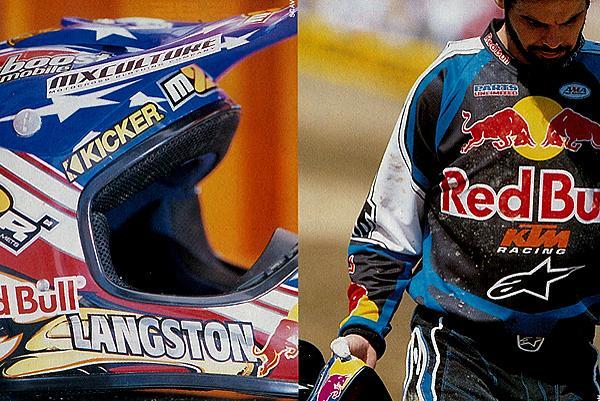 Soon Carmichael had doused the flames and began winning in a more dominant fashion. However, one of our contributors (Steve Matthes) would be remiss if we didn't mention Tim Ferry scoring the first moto win at Budds Creek on his big Yamaha thumper. Windham would log fast laps in practice or put in a good moto at times, but regardless, RC was grabbing the overalls. Finally, the duo rolled into Unadilla, a track that seemed to favor Windham's smooth style and mega-horsepower 450. Windham won moto one when Carmichael got a bad start. In moto two, it was on.
Windham got to the lead again, but Carmichael was soon up to second. RC pushed KW for the entire 30-minutes and two laps, a superb battle that had the Unadilla fans going crazy. This time Windham held on, snagging the overall with 1-1 scores and ending Carmichael's ridiculous win streak: Carmichael had not lost an overall since Windham got him at Washougal in 2001. That was 21-straight races, and, even wilder, just one week short of going two full calendar years without losing an outdoor overall!
Windham had some momentum, and went into Washougal feeling it. He won there, too, on yet another track that favored his smooth style and 450 power. RC wasn't happy, so he worked even harder, and came back to win Millville, Binghamton and Steel City to end the season, as usual, on top. But thanks to Reed's challenge indoors and Windham's challenge outdoors, 2003 had proven to be Carmichael's toughest season. Perhaps he just needed a new weapon?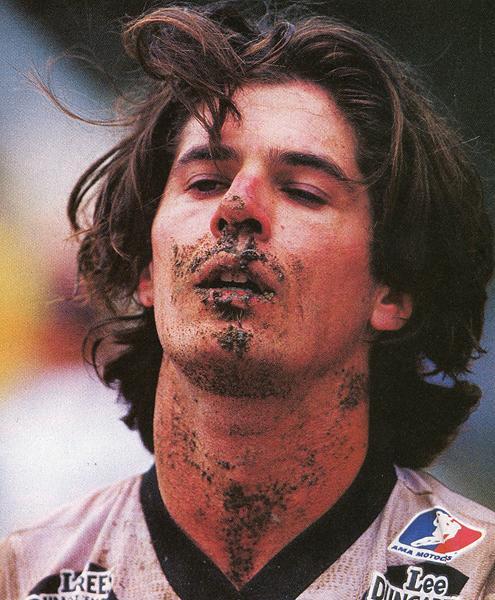 Once again, the 125 class hosted a dramatic, emotional, nail-biting battle, like it always seems to do. It started when 2002 Champion James Stewart crashed spectacularly at the 125 East West Shootout in Las Vegas, breaking his collarbone and opening the door for someone else to take his title. In turn, teams flooded the 125 class at the last moment. Grant Langston, for example, was supposed to race in the 250 class, but KTM threw him back onto a 125 in hopes of stealing the title that got away in 2001. But KTM also had a contender in Ryan Hughes, who was coming out of retirement to race the 125 class.
Hughes met up with fellow veteran Mike Brown (the 2001 Champion) head on, and the duo put together some epic duels at the beginning of the season. Brown's Pro Circuit Kawasaki teammate Eric Sorby was in the mix early, too, and came up about a wheel short of beating Hughes for the Hangtown overall. Brown and Hughes battled again at High Point, and the race was so good that many were left wondering if Stewart would have anything for them when he returned.
He would.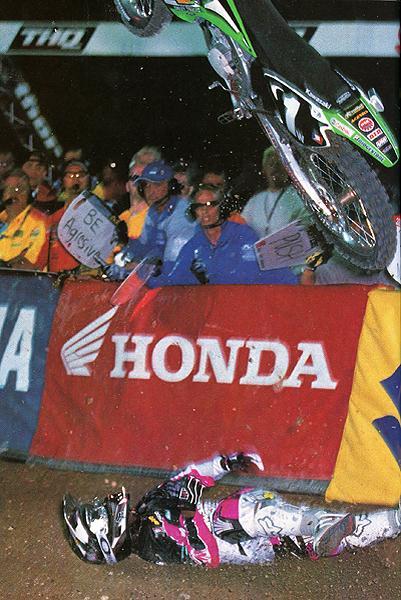 Stewart's return at Budds Creek is now the stuff of lore. He started the first moto in about last and instantly raged all the way up to the lead. He won by an even huger margin in moto two, and along the way, changed the riding style of the sport forever. His legendary pre-jumps over the Budds Creek hillsides led to the term "Bubba Scrub." After that day, no serious rider would ever jump a jump straight on again.
Stewart dominated every single moto for the rest of the season, while the title fight behind him turned crazy. Hughes actually broke his leg at Southwick (but taped up his boot and kept racing!) He tried to race at Budds Creek but Brown ran into him in practice. Hughes said Brown aimed straight for the bad leg, and they nearly brawled. Brown began to struggle under the pressure of leading the series, and Langston was still mending from supercross injuries, so when Hughes returned from the injury he started making up points on both. At Washougal, Brown crashed, and Hughes (ironically and accidentally) came over a blind jump and rode straight into him, breaking Brown's shoulder and ending his season. This left the dueling KTM riders of Langston and Hughes to battle. Red Bull KTM Team Manager Larry Brooks had teammates like Brett Metcalfe and Josh Woods pulling over to help Hughes and Langston score extra points, as Stewart was starting to close in.
The points were getting tighter, as was the tension inside the KTM rig. After the next-to-last round at Steel City, Langston held a seven-point advantage over Hughes heading into the finale at Troy, Ohio.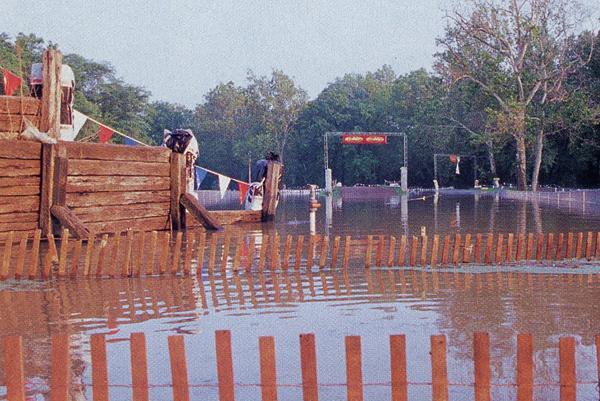 But that race never happened. The Troy track was flooded by massive rains during its traditional July date, and rescheduled as the September season finale. But the rain and flooding, and the track was literally underwater again a few days before the race. The AMA had no choice but to cancel the event, and thus, Langston was pronounced champion via a phone call from the AMA. Suffice to say Hughes wasn't too happy about this one!
After missing the 2001 and 2002 Motocross des Nations, Team USA returned to the event in 2003. Fans braced for a showdown between Carmichael and Stefan Everts, who cleaned up in the '03 GPs (even winning three different races in three different classes at the final race of the year). Belgium hosted the event, giving Everts a home-track advantage, but it didn't matter. No one was stopping the RC steamroller, as he came through the pack after a bad start and caught and passed Everts, despite riding a 250 against the 450s of the competition.
Belgium actually won the event, though, as the race featured a strange one-moto format, and the other American riders struggled. Tim Ferry broke his thumb in practice, and Hughes derailed a chain. So Belgium won the team portion, but on that day, there were no doubts that Ricky Carmichael was the fastest motocross rider the world had ever seen.