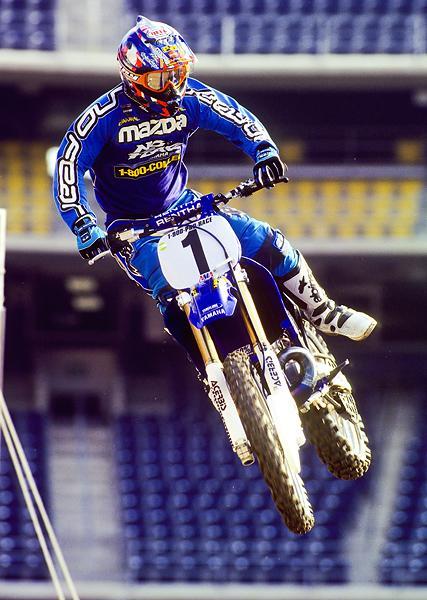 When the 1999 AMA Supercross tour kicked off, it really looked like Team Honda's Ezra Lusk might have something for Jeremy McGrath and his Mazda/Chaparral Yamaha. McGrath was back on form, but it was Lusk who took the first two rounds. But once the series settled into its rhythm, McGrath upped his game and began pulling away from Lusk and the rest of the field. McGrath would win half of the 16 rounds and with them his fifth AMA Supercross title in six years. But after that McGrath would only enter a couple of outdoor nationals, as his career plan was to focus on AMA Supercross.
So the door was thrown wide open to a deep field, including former world champions Greg Albertyn and Sebastien Tortelli, as well as the latter's Honda teammates Lusk, Kevin Windham and Mickael Pichon. There was also Yamaha's Doug Henry, Factory Connection Honda's Mike LaRocco, and Team Yamaha's Jimmy Button. And there was the defending champion, Doug Henry, who had already decided to call it quits at the end of 1999. The folk-hero of American motocross had overcame two devastating injuries to win the '98 title and was now looking ahead to a life in the slower lane.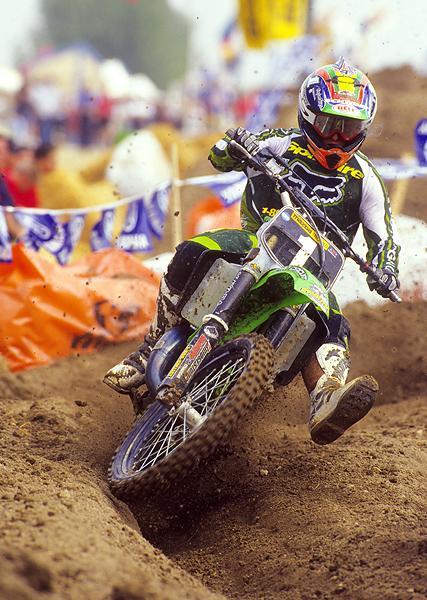 Nonetheless, Henry would actually win a round—Kenworthy's in Ohio—as part of his farewell tour. And his fellow four-stroke pilot Button would win in Washougal to become the second man to win an AMA Motocross race on a thumper.
Also winning rounds were Tortelli, Windham, Lusk, LaRocco and Albertyn, making for seven winners in 12 races! It seemed like Tortelli was on his way to the title before he crashed coming up out of the old "Screw-U" section at Unadilla, breaking his wrist. Then the momentum went Albertyn's way, and the South African, a three-time world champ by the time he left Europe, finally accomplished his goal here in America of winning an AMA Motocross title on Suzuki.
One rider who did not fare so well in '99 was Kawasaki's embattled Jeff Emig. After another difficult year on the racetracks, he got himself into trouble late in the summer when he was arrested for possession of drug paraphernalia—basically an aluminum can with a hole in it and ash residue—and summarily was fired from Team Kawasaki. It was an ugly moment in otherwise sparkling career for Emig.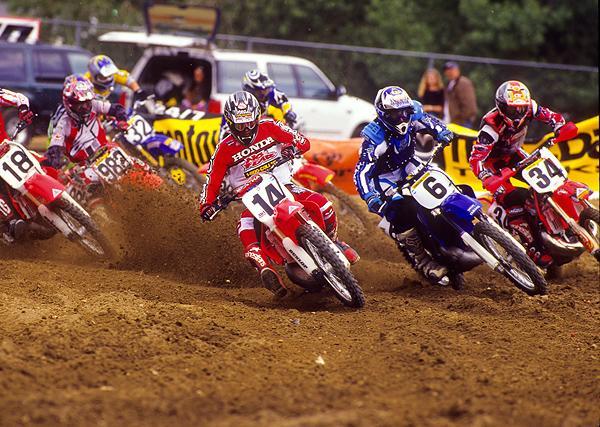 The 125cc class offered little to the imagination. After an ugly debut on his 250 in AMA Supercross, Splitfire/Pro Circuit Kawasaki's Ricky Carmichael pretty much had his way with everyone outdoors. Already a two-time champion, Carmichael had been working with Johnny O'Mara all along on his entire program. Together they decided that Carmichael needed a full-time trainer if he was going to ever catch McGrath inside the stadiums, and together they found Aldon Baker. He started with RC that year and by the time 2000 was underway, RC looked like a different person: leaner, meaner, faster…. It was all coming together.
Carmichael would win 9 of 12 outdoor rounds, losing to Tallon Vohland in the mud at Budds Creek, and then Brock Sellards at Washougal after a pair of first-turn crashes, and Nicky Wey at Millville after another early crash in one moto. Carmichael was practically unbeatable if he didn't crash, which is unfortunately exactly what he did at the Motocross des Nations in Brazil—he made maybe two laps in either moto before going down, as Team USA was crushed by Italy and everyone else.
1999 had a few other events that register as notable. First was Jeremy McGrath's attempt at promoting his own one-off "stadium motocross" race, which was held at the Los Angeles Coliseum and actually won by Tim Ferry. And then there was the X-Games, which included freestyle for the first time and was won by a 15-year-old Travis Pastrana, who splashed into action sports' lore with his celebratory back flip into San Francisco Bay. And finally there wads the World Supercross race at Pasadena's Rose Bowl, which was won by Lusk—allowing him to finish 1999 the way he started it.
Of course we have a record of all this because the Y2K virus that was supposed to hit on December 31, 1999, at the stroke of midnight, did not actually cause much damage to anyone. But that same day was a sad one for a certain American hero. After rebounding from his troubles at Lake Havasu to win the U.S. Open of Supercross on a privateer Yamaha, Jeff Emig was poised to take on his old rival McGrath in 2000 on his own Strategic-3 Yamaha YZ250. But on New Year's Eve he was riding at his friend Stephane Roncada's house (now Ryan Villopoto's house) when he came down hard and snapped both of his wrists. What a way to end an already troubling year.