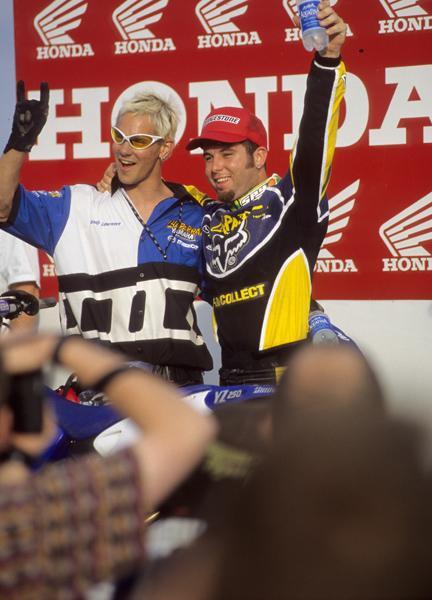 It was a new-look Jeremy McGrath in 1998, albeit the same results in AMA Supercross. Now on a Chaparral Yamaha, Jeremy McGrath would find his old speed and dominance in AMA Supercross, rewarding the brand with its first premier SX title since Mike "Too Tall" Bell way back in 1980, when Yamahas were yellow! McGrath's year on Suzuki was pretty much a lost one, and that brand would not be able to add its first title since Mark Barnett in '81 until Ricky Carmichael turned yellow in 2005.
Behind McGrath it appeared that Jeff Emig was having some sort of meltdown. The defending champ started out strong with a podium finish at the series opening at the Los Angeles Coliseum (behind upset winner Sebastien Tortelli). But from there the wheels seemed to fall off of Emig's bike, and he struggled throughout the rest of the stadium tour.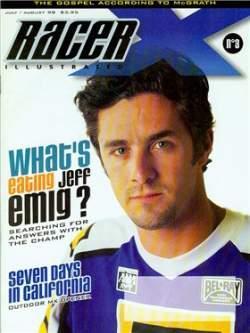 The AMA Motocross tour did not start at its traditional opening round in Gainesville, Florida. In fact, Gatorback was no longer even a national, as the late February event was basically exchanged for a round of AMA Supercross at nearby Tampa. The teams and many in the industry argued that it didn't make sense to do a single national in the middle of the stadium tour, since it left little time for testing and switching things over and then back. The schedule has remained that way ever since, and no outdoor national has been held in Florida since 1997.
Team Kawasaki's Emig would have a new lease on life when the AMA Motocross tour started up, but the winner at the opening round was another Frenchman, this time Suzuki's Mickael Pichon. And McGrath would take the next round on his YZ250, but then a wrist injury before Round 3 would knock McGrath out of the rest of the summer series. And from there, Jeremy would basically sign "Supercross-only" contracts through the rest of his professional career, though he did do the occasional outdoor race. But that '98 Hangtown race would go down in history as McGrath's last major win outdoors.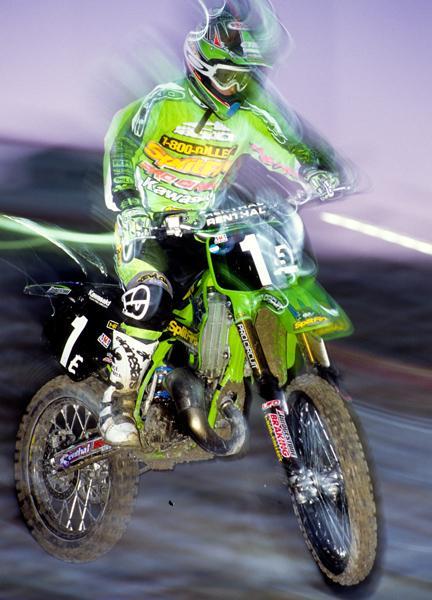 Honda's Ezra Lusk would take Round 3, and it wasn't until the fourth and fifth rounds that the series finally had a repeat winner in a revitalized Doug Henry. Now riding Yamaha's YZF426 full time, Henry would hammer out five wins over the course of the summer, giving him the distinction of not only being the first man to win a SX on a four-stroke, but an outdoor national as well.
After practically sleep-walking through AMA Supercross, Emig seemed to find his old mojo once the AMA Motocross tour reached RedBud, long one of his favorite tracks. Emig took a popular win there, then followed it up with wins at Unadilla, Kenworthy's and Spring Creek. But then Fro broke his thumb and his comeback ended in its tracks. Henry was there again to seize the advantage, and ultimately the championship—the first-ever for a four-stroke in AMA Motocross competition.
The 125cc class lacked drama all together, as Splitfire/Pro Circuit Kawasaki's Ricky Carmichael showed that his rookie-season title in 1997 was no fluke. RC would win 8 of 12 rounds, including six in a row at one point. Finishing second overall in the series and earning himself a place in the record books as the oldest winner of a 125 National was Yamaha's John Dowd. In a footnote, the "Junkyard Dog" won the Southwick National over Carmichael, marking the only time in RC's career that he would lose what's considered the roughest race on the circuit.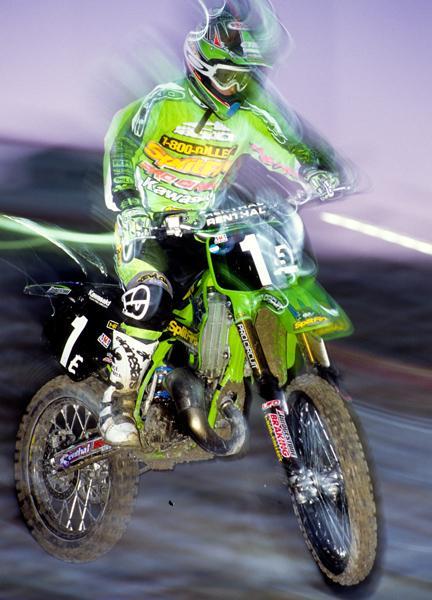 Finally, Team USA took a bath at the 1998 Motocross des Nations at Foxhills in England, but then again, so did everyone else! Rain lashed the valley course, and only Stefan Everts seemed unaffected by it all. He won both his motos in leading Team Belgium to the win. Henry, riding for Team USA for the one and only time in his career, won the first moto for 125/500 class riders, but his teammates Carmichael and Dowd struggled in the deep mud.