Ronald Reagan was in his last year as U.S. president, the Soviet Union was running out of money, and the Cold War itself was running out of steam…. But 1988 was not a good one for the sport in America, as one very dark day clouded the entire industry for a long time to come. On the morning of March 16, two men on bicycles rode up the driveway of SX promoter Mickey Thompson's home and gangland-style murdered both Thompson and his wife. The police long suspected it was Thompson's old business partner Mike Goodwin who ordered the hits, but it would take years before an arrest was made.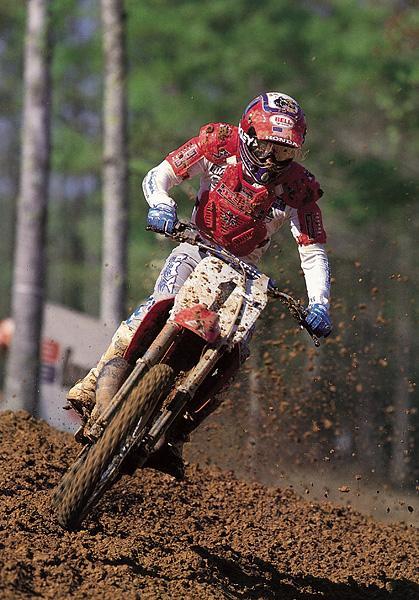 It's too difficult to describe all that went down here, but if you want to read a fascinating, epic story about the Mickey Thompson murders and the subsequent years of questions that followed, check out this feature from LA Weekly.
On the track, 1988 was the beginning of a changing of the guard in American motocross. Old war horses like Bob Hannah and Broc Glover were beginning their rides off into the sunset while new stars like Jeff Stanton and Guy Cooper began to emerge. And waiting in the wings was a whole squadron of fast young American rookies-to-be, including Damon Bradshaw, Mike Kiedrowski, Larry Ward, and more—not to mention a fast and fearless young Frenchman who was about to rattle global motocross at its foundations. More on that tomorrow.
Two-time 125cc National MX Champion Micky Dymond was moving up to the 250cc class and Yamaha had snatched up the popular and entertaining "rock star" of American motocross. But Mickey never found the magic he had on that 125 Honda, beginning a long, slow slide out of the running.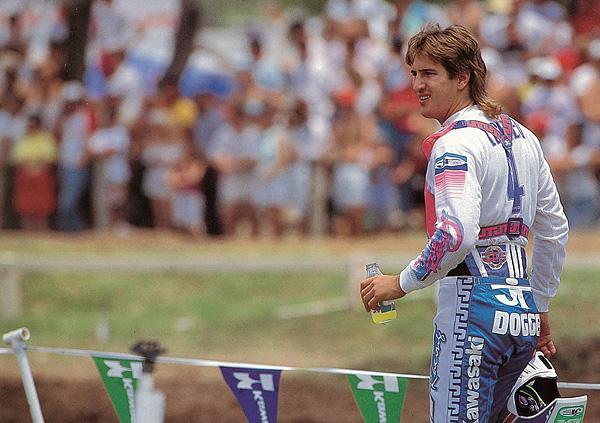 Dymond's old red bike, however, found a good replacement rider in George Holland. A quiet kid from central California, Holland came from a family of almond farmers, so he was much different than his predecessor. After battling back Suzuki-mounted Erik Kehoe, Guy Cooper, and rising star Donny Schmit—all of whom won rounds of the series—Holland kept Honda's winning streak in the 125 Nationals alive at four.
The riders at the top of the charts in AMA Supercross and AMA Motocross included the usual suspects: Team Honda's Ricky Johnson and his Kawasaki rivals Jeff Ward and Ron Lechien. The 500cc Nationals would be won by Johnson, who captured half of the tour's six rounds.
Johnson also captured half of the six rounds of the 250 National tour, but he would not be as fortunate here, as a mechanical failure at the third round in Axton, Virginia—David Bailey's renovated Lake Sugar Tree track—left him playing catch-up. Johnson ended up seven points short, costing him a chance to win three titles in a single season.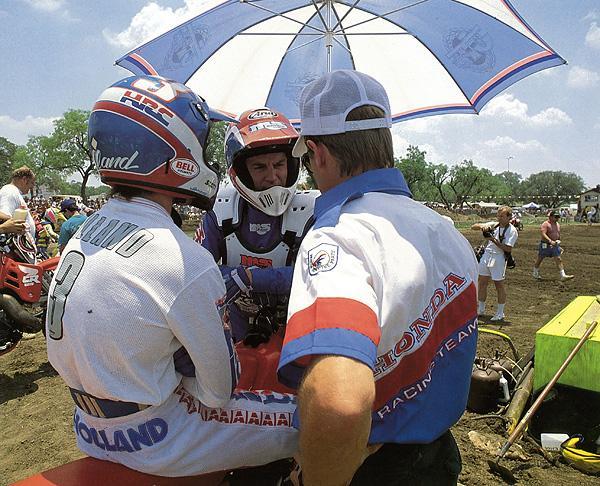 But RJ was firing on all cylinders in 1988, taking seven of the ten rounds of the AMA Supercross Championship and grabbing his #1 plate back from his nemesis Wardy. In fact, it wasn't a very good season indoors for the future Hall of Famer, as Wardy won the opening round at the Houston Astrodome and nothing else for the rest of the tour. He would end up third behind RJ and his own teammate Lechien.
Later on, those same three—Johnson, Lechien, and Ward—would make up Team USA's entry at the '88 Motocross des Nations in Versenne, France, winning over a home side led by Jean-Michel Bayle. That marked the eighth straight year the Americans won this race, and they were nowhere near being finished with their record streak.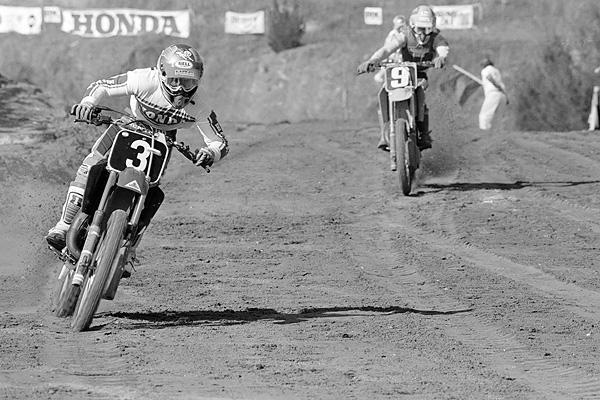 By the way, the winner of the last AMA Supercross of 1988—not to mention the last AMA Supercross of his amazing career—was Broc "Golden Boy" Glover. Talk about riding off into the sunset!