It was pretty obvious what was going to happen going into the 2001 AMA 250 Motocross Championship—Ricky Carmichael was going to win and win big. During the second half of the 2000 MX campaign, RC caught fire and won the final six races of the season. He then carried that speed (and his new-found fitness) into AMA Supercross, where he did the unthinkable. Carmichael didn't just challenge seven-time SX Champ Jeremy McGrath, he dominated him, ending the season on an astounding 13-race win streak to claim his first AMA 250 Supercross Championship. With RC effectively ending the MC era indoors, what was going to stop him outdoors?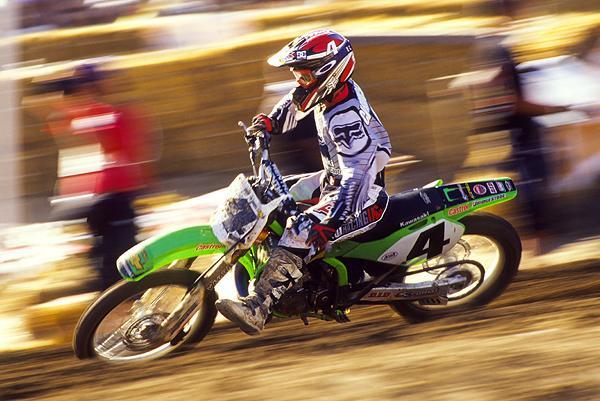 How about an errant haybale? Carmichael had gone undefeated in his career at the Glen Helen circuit in California, but on the first lap of the first moto in 2001, a bale tumbled onto the track, and Ricky ran into it, knocking him off the top of the massive Mt. St. Helens hill. He recovered but finished out of the top five, eliminating him from a shot at the overall. The win went to Team Yamaha's Timmy Ferry. The challenges continued. Team Honda's Sebastian Tortelli, who battled RC for the championship a bit in 2000, won Hangtown, and then in yet another muddy race at High Point, Yamaha's David Vuillemin won for the second year in a row. Suzuki's Kevin Windham was riding strong through the early season, as well, leaving a five-rider pack at the front of the nationals.
Carmichael finally got an overall win at round four at Southwick, while Tortelli crashed and handed over the points lead. That was all RC needed, as he then reeled off five-straight victories. Windham stayed close, though, and at Washougal he beat Carmichael in two superb head-to-head races to claim the overall.
At this point, Carmichael had already signed a deal to move over to Team Honda for 2002, and his KX250 was getting a little long in the tooth. But RC doesn't take losing very well, and he did some more testing to improve his green machine. He fired back with dominant wins at Millville and Binghamton the clinch the championship. Then he decided to drop back to the 125s for the final round at Steel City. Carmichael was tied atop the all-time 125 career win list with Mark Barnett, and wanted to go after the record. But that put him on a collision course with perhaps the most dramatic 125 title fight ever.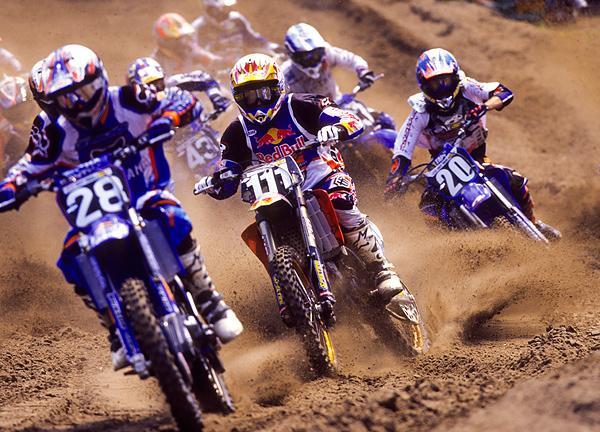 With backing from Red Bull, KTM planned their most ambitious assault on U.S. racing ever, with South Africa's Grant Langston, the 2000 125 GP Champion, leading the squad. Langston had company, though, in his GP rival Mike Brown, who was returning to the U.S. with the Pro Circuit Kawasaki team. Langston immediately proved his worth by sweeping Glen Helen and Hangtown rounds, with only Brown keeping him in sight at Glen Helen. Meanwhile, defending 125 National Champion Travis Pastrana's RM125 looked terribly overmatched against Langston's KTM 125.
Travis got back in the mix by winning a muddy High Point race, which set the stage for a dramatic Southwick National. Pastrana and Langston, both columnists in Racer X Illustrated at the time, both guaranteed wins on the sandy track. Then Langston crashed in practice and separated his shoulder, Pastrana crashed in the first turn of the first moto, and Brown dominated! Moto two was even more epic, as Brown went down early, Pastrana got a bad start, and Langston ran up front despite riding with essentially one arm. Late in the race, though, Pastrana put in an unbelievable charge to catch Langston and Brock Sellards to steal the win. Like we said yesterday, Pastrana was pretty magical on a racetrack back then.
The drama continued. Brown won at Budds Creek, and then the series received an even bigger shock: Moto XXX privateer Larry Ward won Red Bud on the controversial YZ250F. The first-ever 250 four-stroke MXer threatened the factory 125s, and Ward found himself closing up in the title picture. Finally at Unadilla, Pastrana seemed ready to end the craziness with two dominant moto wins. But on the last lap of the last moto, while cruising with a massive lead, Pastrana went over the bars on a jump and knocked himself out—that crash, right there, would be the catalyst. Pastrana would never win another race.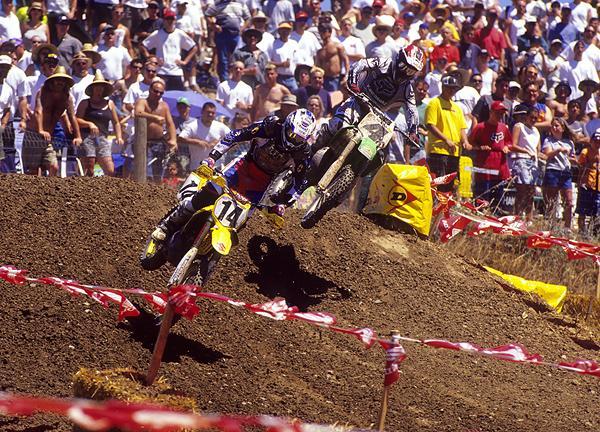 He tried, though. Racing through the effects of a concussion, Pastrana logged a few shaky performances before finally deciding to pull out of the series at Millville. But he still competed in—and won—at the X Games, a move that did not sit well with Suzuki Team Manager Roger DeCoster.
Langston and Brown battled, with Langston holding a small edge heading to Steel City. Carmichael met them there looking to break the win record on a KX125. Brown had been riding and training at Carmichael's house all summer, which raised suspicion that RC was dropping down to help his buddy. RC responded by saying to Langston, famously, "Don't worry, I won't even touch you when I go past you."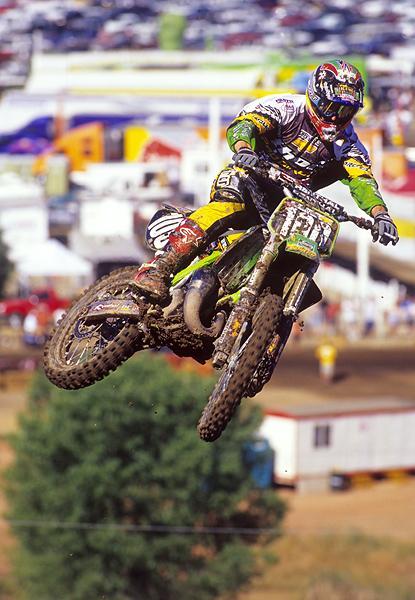 Carmichael started nearly last in the first moto and could only get to third. Brown won the race (and flipped off Langston at the finish!) to close in on points, but Langston still had a slight points lead. Then Brown crashed early in moto two. With Carmichael pulling out a massive lead, Langston circulated up front, looking to cruise home with KTM's first-ever AMA National Championship. Then disaster struck. Spokes started breaking on Langston's rear wheel. Brown was coming through traffic in a hurry, while Langston started falling through the pack. Finally, in the waning moments, Langston's wheel collapsed, and so did his championship hopes. Brown had it, so he even moved over to allow Brandon Jesseman to pass him, thus giving Carmichael the overall (and all-time 125 win record) via 3-1 scores. And Brown won the championship, celebrating with tears of joy at the finish, while Langston sat in the mechanics' area about 20 feet away, crying, as well, over a championship lost to a broken wheel.
Just days later, the terrorist attacks of September 11, 2001, rocked the country. The U.S. chose not to send a team to the Motocross des Nations. Hard to believe it's been nearly ten years, but we finally found the man responsible for the attacks. And then justice was done.