The year was 1987 and the phenomenon known as Max Headroom had thankfully passed.  We as a country were celebrating the New York football Giants victory in the Superbowl and getting ready to deal with Oille North and something called the Iran-Contra affair. The Edmonton Oilers defeated the Philadelphia Flyers in a seven-game battle to win the Stanley Cup, the LA Lakers won the NBA title, Platoon won Best Picture at the Oscars (somehow topping motocross cult classic Winners Take All) and something called Prozac was invented.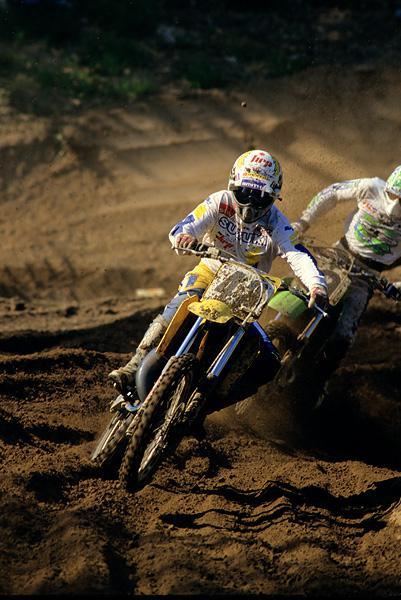 American Motocross was devastated in early January '87 when Honda's David Bailey crashed at a pre-season race in Lake Huron, California and just like that, his career was over. It was a big blow to the sport and also hurt on the competitive side,  as Bailey was the only one who was able to keep the new superstar, Rick Johnson, in sight throughout much of 1986. Bailey had ended the year beating actually beating Johnson for the '86 500 national title, and it seemed like he had more to give in '87.
The loss of Bailey overshadowed the other off-season moves like Honda's Johnny O'Mara switching to Suzuki when Honda couldn't afford to keep the number 3 rider from the '86 season.  Yamaha picked up Aussie speedster Jeff Leisk for the factory team and Suzuki hired Minnesota's Donny Schmit to spearhead its 125 effort.
In the supercross season, Kawasaki's Jeff Ward returned to his 1985 form. He managed to beat Johnson in what was a war of attrition in supercross, as RJ knocked himself out at the season opener, then Ward hurt his ankle really badly.  Just as RJ was closing in on the points, he damaged some fingers at the Pontiac round. This enabled Ward to recapture the indoor crown that he had to surrender to Johnson the year before.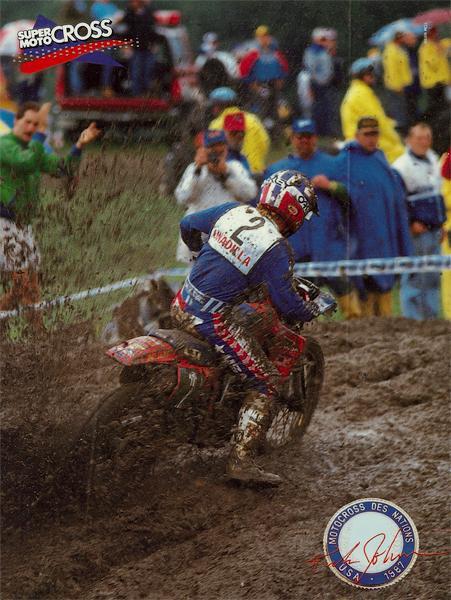 The years '87 and '88 featured Johnson and Ward as the two premier riders, with Ward's teammate Ron Lechien getting in there once in a while to get some wins. When it came to the outdoors, it was Johnson's time, as he swept both the 250 and 500 nationals with ease. In fact, the only rider to win outdoor races this year in these two classes was Lechien who won one race in the 250s and one in the 500s.
Yamaha's Keith Bowen moved up to the 250 class and had some solid results in the 250s finishing fifth in the points and Canada's multi-time champion Ross Pederson ended the series in eighth despite missing two races for Canadian racing commitments. Pederson's highlight was getting third at the Hangtown National.
Suzuki pinned its hopes on O'Mara but knee injuries and a crash on his mountain bike set the former national champion back. The best he could do was a ninth in the 250 series as he missed some races as well.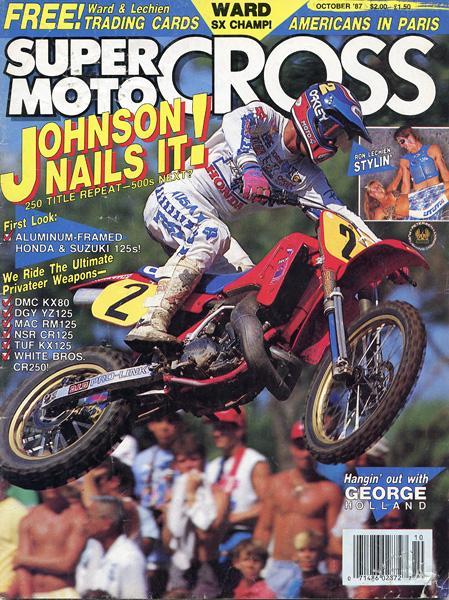 In the 500s it was again Johnson as this time, due to injury, Ward was nowhere to be found. Many suspected that Wardy was too short to be a genuine title contender on a 500. He would prove that theory wrong a few years later, but in 1987, he seemed to be fighting injuries every weekend. This, along with Lechien's up-and-down series, allowed newcomers like Yamaha's Jeff Stanton and Mike Fisher to step up and ride the big bikes to top finishes.
Stanton, a rising star for the white team (yeah, Yamahas were white back then), bulldogged his antiquated YZ490 to a second overall in the series behind Johnson and in fact, he led Johnson in a few races in this series.  Fisher, an R&D rider for Kawasaki, ended up third overall and would jumpstart his career with this result. Privateers Dennis Hawthorne, Tom Carson and Tommy Watts all had great finishes in this series. The 500 class was perfect for the privateers. Suzuki didn't make a 500, so their factory riders didn't compete, Yamaha's YZ490 was aged, Honda didn't have a second 500 rider due to Bailey's injury, and, in general, the 500s were inexpensive to maintain.
In the 125 class, it was a great series between defending champion Micky Dymond, Suzuki's Erik Kehoe and George Holland, and Honda support rider Guy Cooper.  The year before, Dymond used consistency to win the title but in 1987, he caught fire in the midway point of the series and started racking up wins.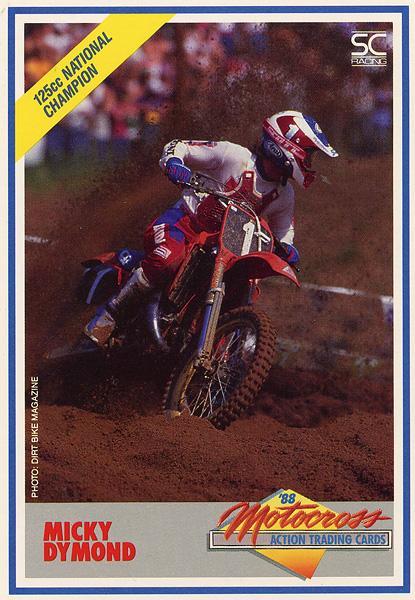 Holland actually won the first two rounds before Dymond recovered from an illness, put his Honda into high gear and started kicking butt. The young Schmit managed a couple of wins, and Kehoe and Cooper did as well, but it was Dymond who managed to defend his title. Due to a rule made the previous year, any rider that won two 125 championships were automatically kicked out of the class and Dymond became a hot property for the 1988 season as he now had to move up to the 250s.
When it came to the Motocross des Nations, the American team didn't have to go too far, as for the first time in history, the race took place on home turf as Unadilla, New York was the venue. The pressure was on the team and despite being passed over in '86 in favor of O'Mara; 125 National Champion Dymond was once again not selected.
The team that went to New York was no-brainer choices Johnson and Ward along with Suzuki's Bob Hannah who at this point, was easing himself into retirement. Hannah did mange to win the USGP at this track the year before but his selection for the 125 (?!?) class was definitely a bit controversial—he had not raced a 125 since 1982, and his results weren't very strong back then. And Hannah wasn't even racing full-time by 1987.
The AMA countered that at Unadilla, Hannah was still one of the best in the business.  It rained horribly at Unadilla for the race, and in the slop, Johnson and Ward did their part, especially RJ, who dominated both of his muddy motos on a 250. Not bad for a California guy! Wardy was consistent in the 500s, and in the pouring rain and mud and it was Hannah's class win (with 4-1 scores) on a 125 that helped Team USA win its sixth MXDN in a row. The fans, of course, went crazy.