Let's start with a note from a lifelong enthusiast, Rex Backman of MX for Children:
"I have this sitting on my desk at home - my 1975 Hangtown ticket stub – and I just realized you are doing 1975 tomorrow! Feel free to use this if interested - I am loving the early years - that's when I cut my teeth on MX!"
In 1975 we saw the emergence of America's first genuine celebrity motocross racer. Marty Smith, the teenaged Honda rider from San Diego, was the darling of the sport here, using his great skills, surfer's look, and a potent factory Honda to dominate the entire 125cc National Championship. His only loss came in the series opener at Hangtown, where mud and an inspired Tim Hart of the Yamaha factory team led to his defeat. But beyond that, Smith was perfect.

Smith also become the first American to win a U.S. Grand Prix, as he dominated the Valvoline 125cc Grand Prix at Mid-Ohio. That would lead to quite an adventure in '76.
The AMA had tweaked the rules and scheduling somewhat to allow riders to compete in all three AMA National Championship series if they wanted to, though there were some overlaps. As a result, Smith's name showed up in both the 250cc and 500cc standings as well, though he did not win any races on big bikes until the Herman, Nebraska, Trans-AMA in October. The Trans-AMAs were still going strong, with Roger DeCoster on top, but Americans like Smith and now-Suzuki-backed Tony DiStefano had started grabbing race wins. Tony D. also dominated the last Inter-Am series, winning all three rounds that summer.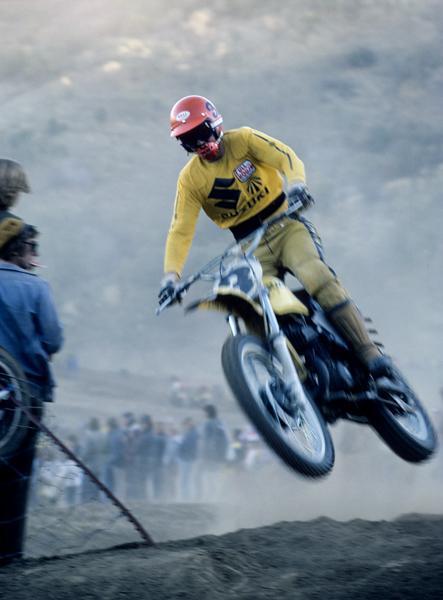 DiStefano had gone from working out of his own kidnapper van on his antiquated CZ equipment to the Suzuki factory tent, and he rewarded the company by the shortened five-race AMA 250cc National MX Championship, as well as the Inter-Ams and three Trans-AMA races, finishing third in those rankings to Suzuki GP stars DeCoster and Gerrit Wolsink. But he was no match for Can-Am's Jimmy Ellis in AMA Supercross (the series now had a name—the term was coined by Motocross Action's Paul "Baz" Boudreau and first appeared on the cover of sister publication Dirt Bike). Ellis swept every one of the four rounds of the tour. (There was also a 500cc class AMA Supercross tour, won by Maico rider Steve "Short Stack" Stackable, one of the tallest top riders of all time.) As for three-time champ Gary Jones, he tore his knee up early in the season and was never the same. He would eventually leave Can-Am to race a Mexico-built Amex, and then also experiment with his own Jones-Islo brand, but neither ever gained traction. But what Gary did before 1975 landed him in the AMA Motorcycle Museum Hall of Fame.
In the 500cc class, Tony D.'s old nemesis Jimmy Weinert had switched from Kawasaki to Yamaha, and he was able to add the AMA Motocross title in this class. Weinert had to beat Stackable and Pierre Karsmakers to do it, Karsmakers having been reinstated by the AMA after they scrapped a very controversial citizenship requirement.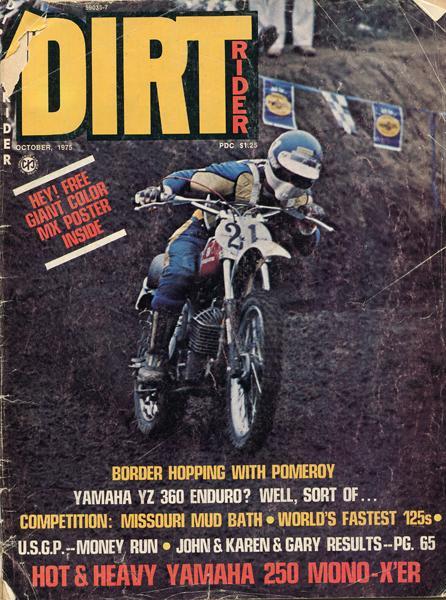 Much of the 1975 AMA Motocross tour was documented for the very cool motocross documentary One Chance to Win". Here's a clip.
You can order the whole film via the Motocross Files.
Finally, 1975 ended in tragedy at the Trans-AMA Series, as highly respected AMA regular Jim West lost his life in a crash at the Saddleback race in Southern California. It was an end-of-the-innocence moment for the entire sport. By 1976, things would start to change, as the sport became even more professional, more competitive, and the equipment advanced rapidly. To put it another way, a Hurricane was on the horizon….